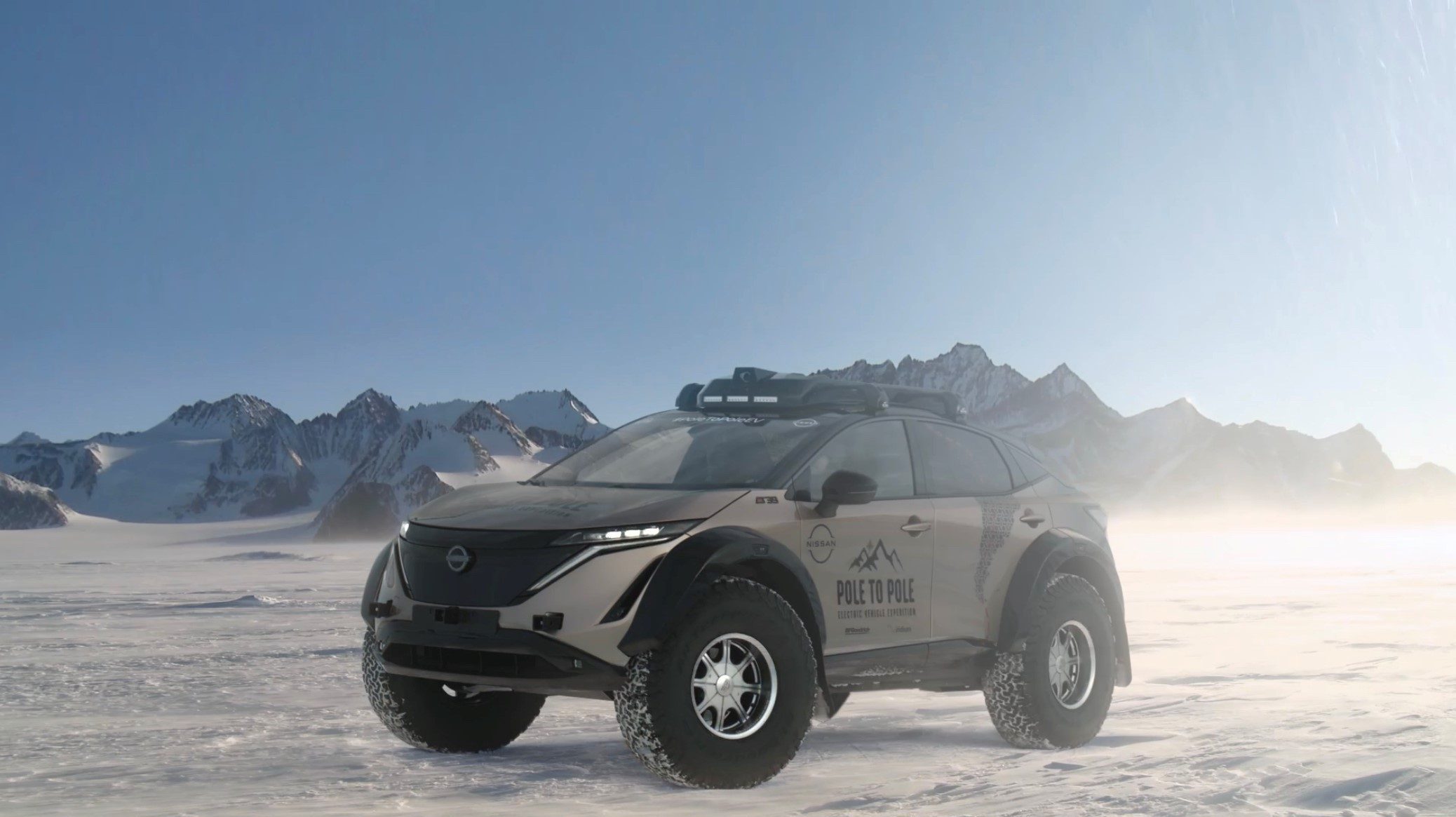 February 1, 2023 – Reykjavík, Iceland
Set amongst Arctic-like conditions, the Pole to Pole EV expedition team, Nissan and Arctic Trucks® today unveiled an adventure-ready version of the new Ariya all-electric crossover SUV, which will undertake a 17,000-mile trip from the Magnetic North Pole to the South Pole; the first time in history that any wheeled vehicle has made this voyage.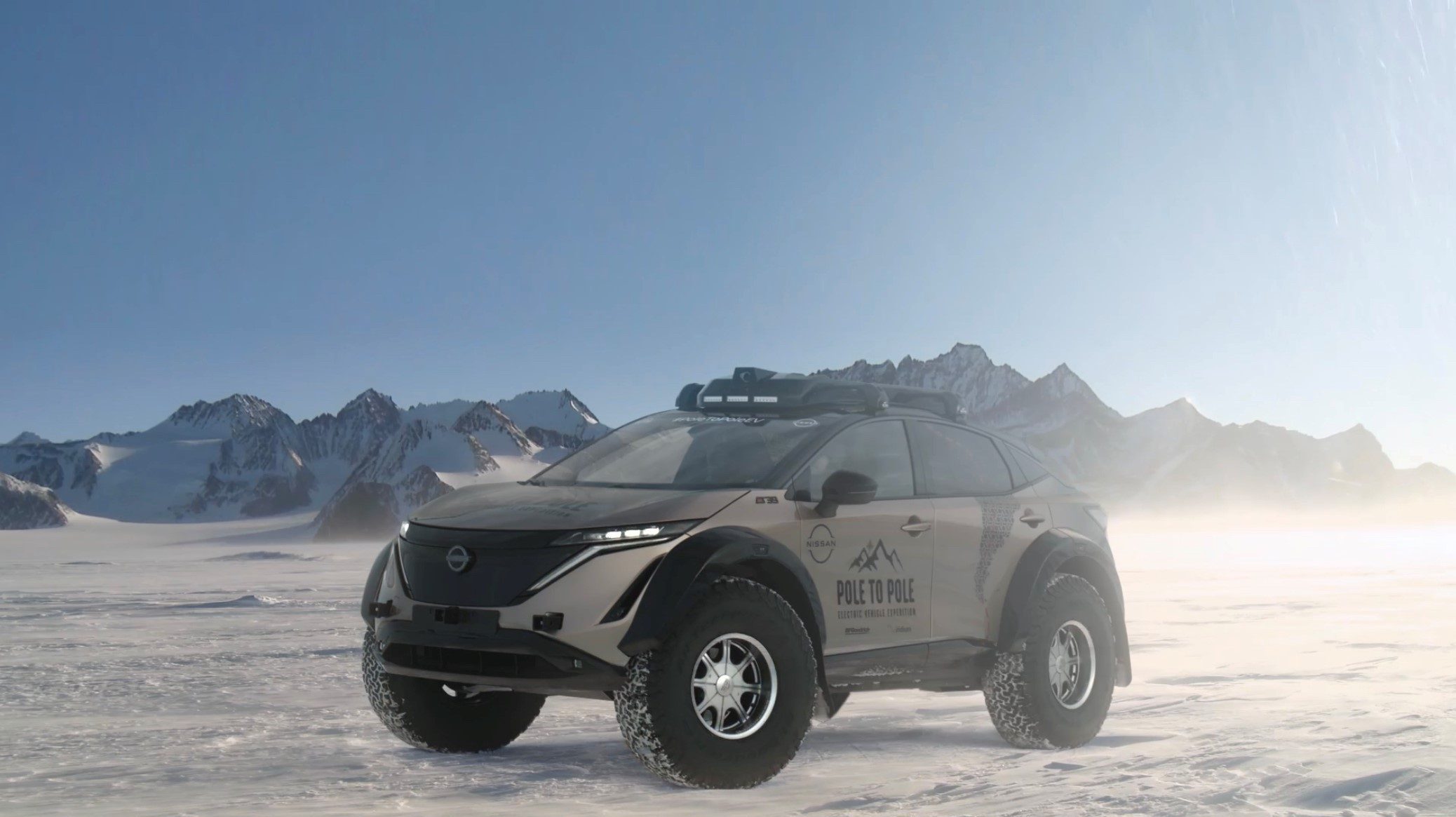 During an epic ten-month adventure scheduled to begin on 23rd March, this pioneering vehicle expedition will see British couple, Chris and Julie Ramsey, cross 14 countries, through Canada, North, Central and South America to Punta Arenas in Chile before travelling to the edge of the Antarctic continent, then onward to the South Pole.
Throughout this journey, the Ariya will need to cope with a plethora of breath-taking but extreme terrains and environments, from ice fields and deep snow, to steep mountain climbs and inhospitable desert dunes.
Conceived specifically for this challenge, the formidable Nissan Ariya AT39 e-4ORCE marks the first EV constructed by world-leading extreme vehicle specialists, Arctic Trucks®.
Designed and developed in partnership with Nissan, the Ariya AT39 (Arctic Trucks®, 39" tyre) is a professionally re-engineered high mobility platform, balancing the performance and efficiency of Nissan's electric vehicle architecture with adaptations and enhancements to the body, bodywork, subframe, underbody, suspension, steering, wheels, tyres, braking system and more, to create a truly long-range expedition vehicle capable of circumnavigating the globe, over all terrains, with minimal environmental footprint. Key features include:
Arctic Trucks® re-engineering to frame, body, bodywork, underbody, steering and braking systems
Widened Arctic Trucks® fender flares, featuring recessed AT tyre pressure detail
Rugged custom machined 17×10 Arctic Trucks® dual valve alloy wheels
39" (39×13.50 R17) BFGoodrich® All-Terrain T/A® KO2 tires
Suspension optimised and elevated by Arctic Trucks®, incorporating repositioning and geometry adjustment to suspension mounting points and subframe (elevation: +110mm)
Arctic Trucks® strengthened, lightweight underbody armour
Electronic headlight adjustment and speedometer recalibration
Enlarged and strengthened mud guards
Multiple Arctic Trucks® strengthened 2" multifunction receiver hitches (front and rear), for mounting of towing, winching, gear carrying solutions, expedition accessories etc.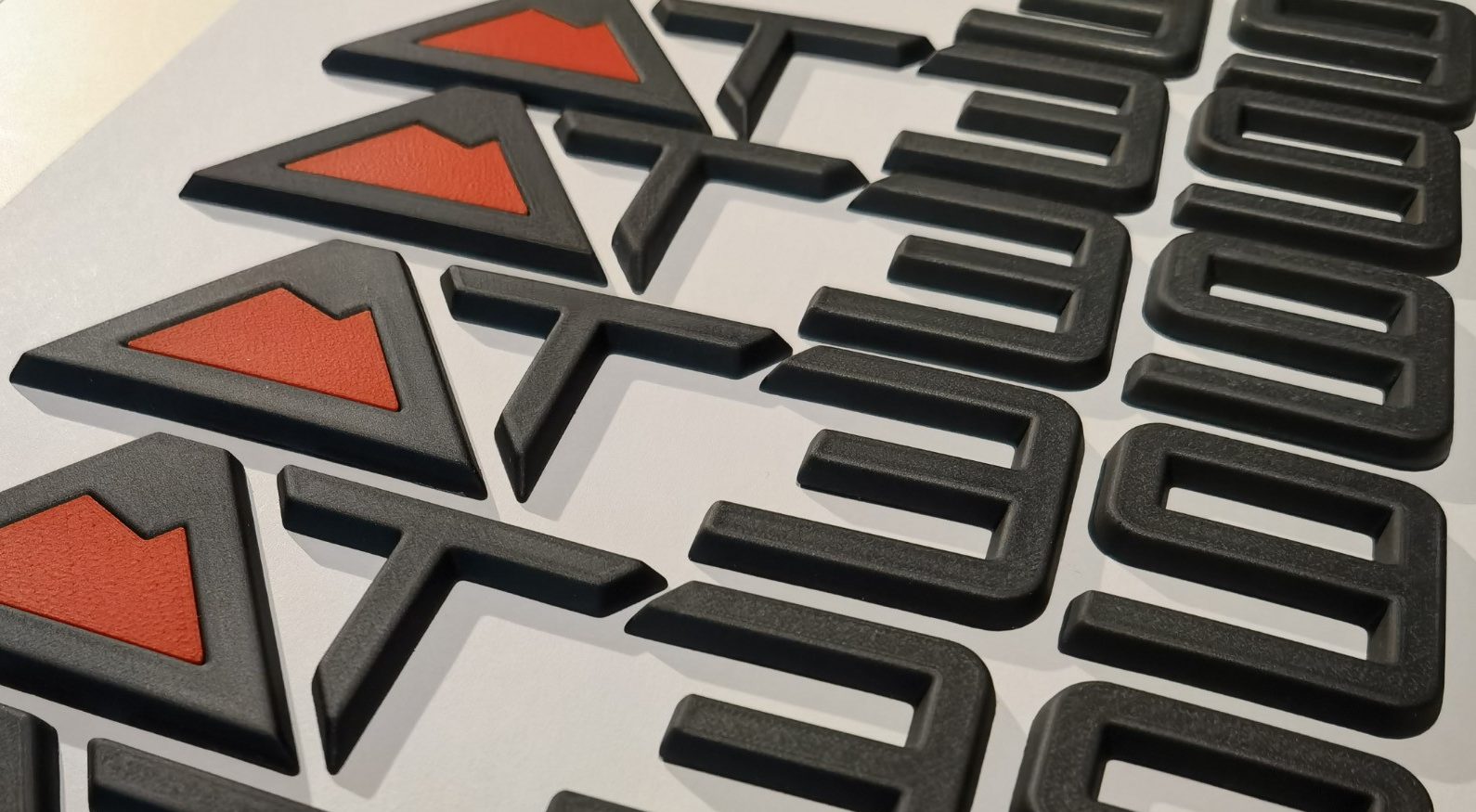 Modifications to the remainder of the vehicle have been intentionally minimal, with no changes to the battery or powertrain. When coupled with e-4ORCE, Nissan's advanced electric all-wheel-control technology, and 39-inch All-Terrain T/A® KO2 tires from official expedition tyre partner, BFGoodrich®, these modifications will enable the expedition car to tackle both paved roads and extreme terrains whilst giving Chris and Julie the necessary comfort, control and mobility to safely and successfully reach the South Pole.
In addition to design, development and re-engineering of the Nissan Ariya AT39, Arctic Trucks® are also providing key consultation, route planning and logistical support, with particular focus on the polar extremes of this unprecedented voyage.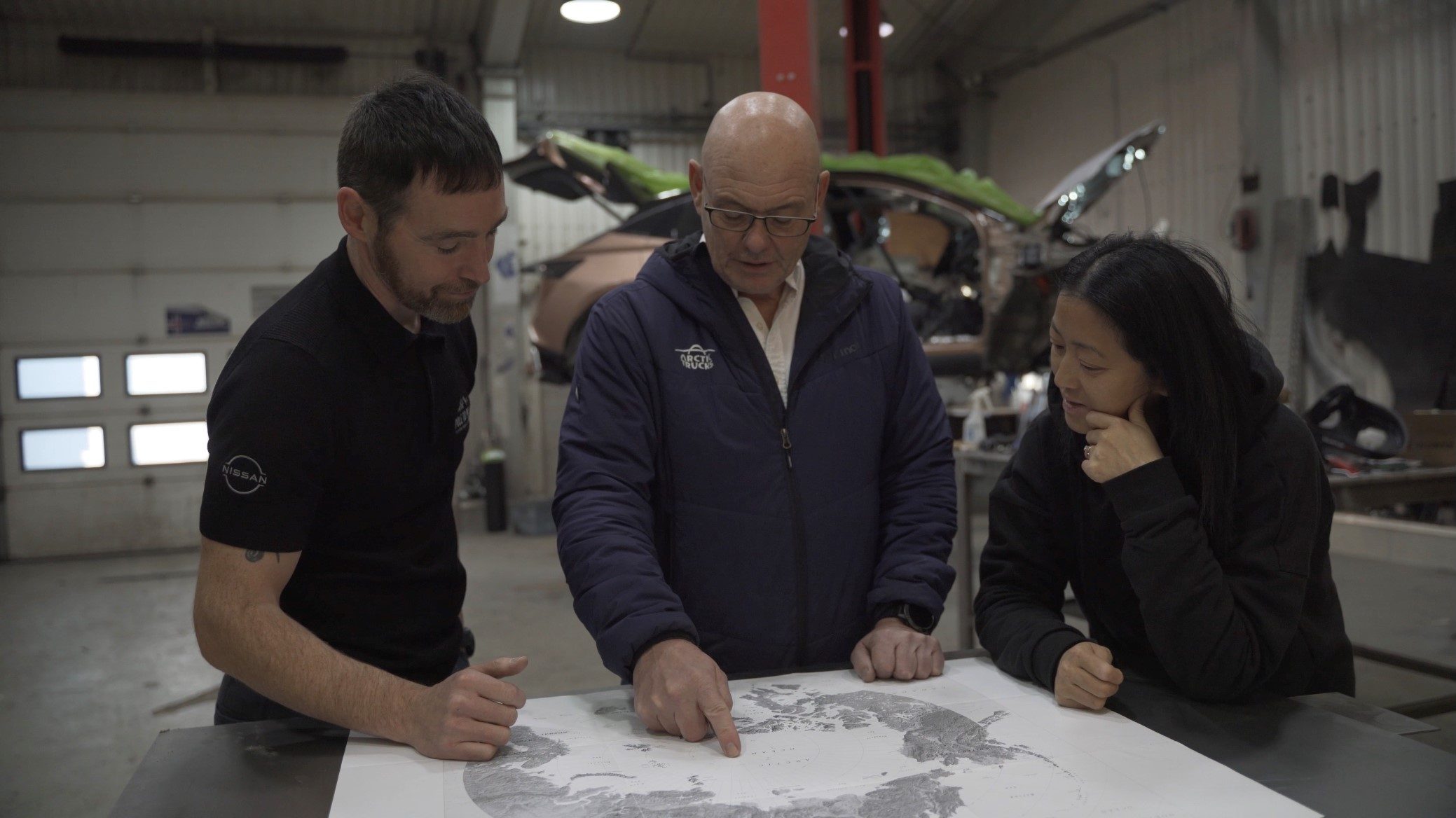 Founder of Arctic Trucks®, Emil Grímsson, said: "For over 25 years we have specialised in providing logistical support, engineering expertise and expedition planning for projects in both Polar regions. Our vehicles have proven over five times more fuel efficient than traditional alternatives and we are continually looking for further improvements. We acknowledge that battery-based electric vehicles have important hurdles to overcome for use in the extreme cold, a challenge for which we are excited to be a part of developing solutions."
"The Polar regions are very important to us all for a variety of reasons, so operations there will only increase. This project will provide important information about how we develop our future vehicles. We're very excited to be working alongside Chris and his team to offer our support to this timely and unique adventure."
Chris Ramsey, Pole to Pole EV Expedition Leader, commented: "One of the things that underpins all the adventures we do is that we take a standard production EV and aim to make minimal changes to clearly demonstrate its real, everyday capabilities, regardless of where you are driving it. Our Nissan Ariya is no different as the vehicle's drivetrain and battery has remained factory standard, demonstrating just how capable and versatile the production Ariya is. I'm incredibly excited to get behind the wheel of what was already a brilliant vehicle, but now feels equipped to reach the ends of the earth in style!"
As a self-confessed coffee lover, Chris will also have access to a specially integrated espresso machine with a good supply of sustainable coffee. Whilst the on-demand caffeine will help him focus on the long and isolated parts of the route, Chris can also capture the beauty of these spectacular environments using a drone that can launch directly from the utility unit on the roof.
In addition, Iridium have provided integrated equipment and global terrestrial communications, combining 100% satellite coverage and low latency to enable essential mobile data and voice communications, unaffected by weather or landscape.
One further innovation is the portable, renewable energy unit that will be used to charge the Ariya in the polar regions. The towable prototype includes a packable, lightweight wind turbine and solar panels that will take advantage of high winds and long daylight hours to provide charge for the EV's battery when Chris and Julie stop to rest.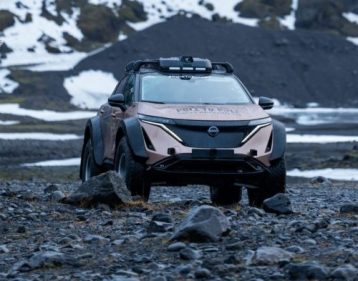 Julie Ramsey, co-driver on Pole to Pole, commented: "The planning and preparation for Pole to Pole has been such a big part of our lives over the past four years so I am really looking forward to getting the expedition underway in March. We're going to discover so many interesting initiatives from communities and individuals who are taking positive action against climate change and I'm looking forward to sharing these experiences and stories with everyone. We are doing something that has never been attempted before, a world-first, and ultimately that is what makes it so exciting."
For more details on the Pole to Pole expedition, including the latest updates as the team prepares for their epic adventure, head over to www.poletopoleev.com.